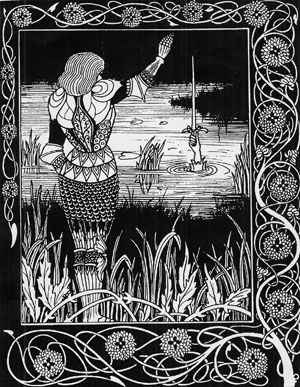 I set out recently to read every novel I could find on King Arthur. I read through several classic texts on the subject (such as
Le Morte De Arthur
and
Sir Gawain and the Green Knight
). These books gave me an interesting foundation on the story of King Arthur, but I found myself enchanted with some of the modern interpretations of the legend. There are three fantastic modern novels that I would recommend to anyone that is interested in Arthurian legend.
The Once and Future King
by T.H. White is a compilation of four (or sometimes five) novels about Merlyn's tutelage of the young Arthur. The most recognizable of these three is the winsome
The Sword in the Stone
, on which the Disney movie of the same name was based. One remarkable thing about these novels is that Merlyn lives backward, seeing culture and technology devolve, switching age and youth, and making first meetings sad and final. T.H. White writes predominately with a light hand, infusing humor and intentional historical inaccuracy into his engaging retelling of the Arthur story.
The Mists of Avalon
by Marion Zimmer Bradley is written from the perspective of Morgaine, a pagan priestess trying to save her magical world from the influx of patriarchy and the new religion, Christianity. The story focuses almost entirely on the female characters from King Arthur's world; King Arthur and his knights only appear in relation to the women's stories. This novel is satisfying in its rampant unpredictability - relationships begin and crumble, worlds collide, and the ways of worship shift and meld together, but not how you would expect.
The Crystal Cave
by Mary Stewart is just the first installment of her Arthurian quartet of novels. The protagonist is Myrddin Emrys (Merlin), a young boy who lives as an afterthought with his unmarried mother in the court of his grandfather. Merlin meets a hermit who sees his latent psychic powers and teaches him how to use them. Merlin is forced to leave his grandfather's court shortly thereafter, and the novel follows his journey through kidnapping, adoption, and his eventual hand in the conception of Arthur, the great King.
-- Jessica H, MCMLS reference assistant